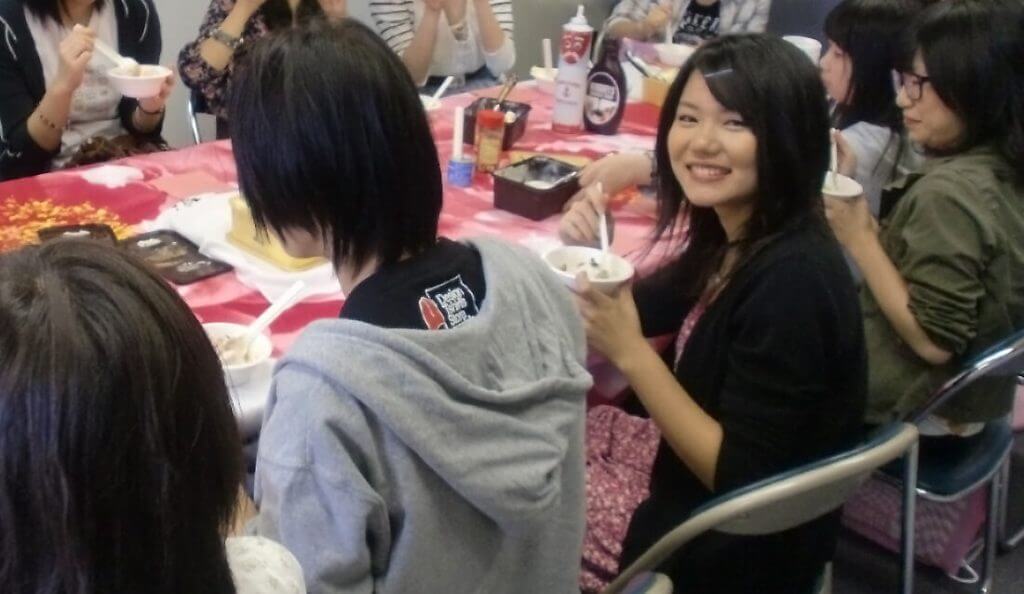 High School Students Enjoying the Food They Made
Junior & Senior High School Course
★
This course is specifically designed for Junior and Senior High School students.
---
Textbook fees may apply depending on the type of lesson requested.
There is an extra charge of 100 yen per lesson, for each junior or senior high school lesson, for preparation and items necessary for lessons such as stationery, applications, music, other materials.
These fees are for junior high school students (roughly 18 years of age).
There is an extra charge of 100 yen per lesson for special exam preparation courses, for the printed material.
---
Sapporo Eikaiwa School AGREATDREAM
Tailored lessons according to your request. Daily tests, level up lessons for exam preparation, etc.
Learn how to make friends and communicated with people from different countries in English.
We can teach lessons to students that have never studied English before, with Japanese explanations if needed.
---
Skills and Traveling
When looking at the four basic skills needed in English, speaking, listening, reading and writing, reading and writing can be checked using a dictionary, but repeated training by conversation practice is good to improve your speaking and listening skills.
It is better not to translate Japanese to English in your head, but of course just understand English the way it is when talking to people. When traveling around the world, opportunities increase for people that can collect and share information.
---
Translation Challenge:
「話す」「聞く」「読む」「書く」の4技能のうち、辞書を使って確認のできる「読む」「書く」と違って、瞬発力の必要な「話す」「聞く」力をつけるには、会話練習によるくり返しのトレーニングが欠かせません。
英語を日本語に訳さず、英語のままで理解する力がつき、英語でのコミュニケーションはもちろん、情報収集や情報発信もできるグローバルな人材として世界に羽ばたくチャンスが大きく広がります。
Translation With Mistakes:
What is wrong with the translation below from Google Translate?
Of the four skills, speaking, listening, reading, and writing, unlike just like reading and writing that can be confirmed using a dictionary, in order to attach the ability to speak and listen requires instantaneous power. Repeated training by conversation practice is indispensable. With the power to understand in English without translating English into Japanese, opportunities increase. to fly around the world spread widely as global talent who can collect information and information as well as communication in English.
---
Vocabulary Lists by Year
★
English Word List for Junior High School Students:
English Word List for Senior High School Students:
---
English Cooking Lessons
Learn how to cook quick meals: Beef Stir-Fry Recipe
■ Advanced Group
The Advanced Group is mainly for returnees or others who already have a high level of English.
* Roughly EIKEN level 2 and up.
■ Standard Group
The Standard Group is for students who want help with school studies or want to study English so that in the future they can live, work and study in an international environment.