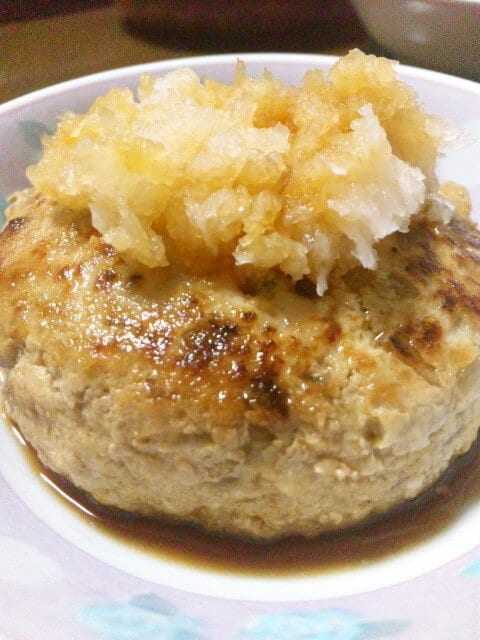 豆腐ハンバーグ
ふわっとしっかり塩麹で 豆腐ハンバーグ ✿
このぷっくりかげん!!凄くないですか?? 塩麹って凄い❤ハマってしまいました✿ つなぎ??いりません^^ ひなかなかか
材料 ( 大人2人+子供2人 )
豚ひき肉 400g
木綿豆腐 1丁(350g)
塩麹大 2(うちは塩薄めなので)
コショウ 少々
たまねぎ 1個
---
作り方
1. 豚肉をボウルにだし塩麹をいれて混ぜておく。玉ねぎはみじん切りにしておく。 2. 豚肉が入ったボウルに豆腐をつぶしながら入れてよ~くまぜる。たまねぎ、こしょうもいれてよ~くまぜる。 3. もったりしてきたら焼くまで寝かせておく。 4. 生地を、適当な大きさに丸めて空気抜きをして真ん中をへこませて火をつけたフライパンに並べて焼いていく。 5. 焼き色がついたらひっくり返して焼き色を付ける。蓋をして蒸し焼きにしていく。 6. 焼いてるうちに、どんどん、ぷっくりしてきますよ~!肉汁が透明なら出来上がり。 7. 今回はさっぱりとポン酢と大根おろしでいただきました。いつもの豆腐ハンバーグよりボリュームがでて、しっかりしてました。 8. お好みのソースでどうぞ✿
---
Tofu Hamburg
Under construction
Add the pork mince to a bowl with the salt. Cut the onion.
Add the tofu to the bowl and mix the pork mince, onion and tofu together.
Cook the patty.
As you are cooking, little by little…
This time I used a pon vinegar and grated radish sauce.
Cover with your favorite type of sauce.
View Homepage