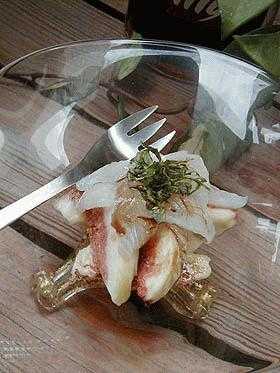 鱸と無花果
鱸(スズキ)のお刺身と熟れた無花果をサラダに。 ワインにも合うと思われます。 塩とバルサミコ酢だけで手軽でちょっとゴージャスなひと品に。
鱸と無花果
---
Perch (Suzuki) sashimi and fig fruit salad. It goes well with wine. The salt and balsamic vinegar alone make it a gorgeous but easy to make meal.
Ingredients
(2 people) 2 ripe figs About 10 slices of Perch sashimi (or other white fish) Natural salt for taste 1 tablespoon of Balsamic vinegar
Method
Choose well ripened figs and cool them in the refrigerator. Peel the skin and cut them into bit size pieces.
Lightly rub salt on the sashimi, and put the sashimi on top of the the ripe pieces of fig on the plate you will server the food on.
Sprinkle only a little balsamic vinegar on top. Serve with a cold wine or sparkling wine.
View Homepage